BUILT TO CONQUER
All prices mentioned include 15% value added tax, and do not include registration fees and vehicle insurance premium
Available in the following colors

SILVER ME

GRAY ME
OXIDE BRONZE ME

SUPER WHITE II

PLATINUM WHITE PEARL CS

ATTITUDE BLACK MC

EMOTIONAL RED II

ATTITUDE BLACK MC

SUPER WHITE II

PLATINUM WHITE PEARL CS

SILVER ME

GRAY ME

DARK BLUE MC

SUPER WHITE II

PLATINUM WHITE PEARL CS

ATTITUDE BLACK MC
full specifications
Engine: 2.8L, 4 cylinders, Diesel D-4D ,Turbo
Max Output: 201 BHP / 3400 rpm
Max Torque: 500 NM / 1600-2800 rpm
Tire Size : 265/60R18 , 18'' Aluminum wheels
Transmission: 6-Speed Automatic
Engine Auto Stop/Start System
Front Paint Bumper with GR special grill
Leather steering sheel with mounted controls with GR logo
All Leather seats and door trims
Front Separate Seats with GR logo on headrests and auto adjuster for driver seat
Navigation System Touch Screen 8 inch
Panoramic View Monitor (4 Cameras)
Front & Rear Parking Sensors
Automatic Power windows all doors
Power Side Mirrors with Turn Signal Lamp & Welcome Lights
Auto Retractable Power Side Mirrors
Smart Entry System and Engine Stop/Start Button with GR logo
4.2 inch colour Multi-Information Display
Rear seat armrest with cup holder
Rear Air Conditioning Vents
IR Cut Front glass & windows
Engine immobilizer system
Rear differential lock with auto disconnect
Front Disc Brakes & Rear Drum Brakes
Anti-Lock Braking System (ABS) & Electronic Brake-force Distribution (EBD)
Vehicle Stability Control (VSC)
Hill-start Assist Control (HAC)
Driver and front passenger airbags , Driver knee airbag
Tire Pressure Monitoring Sytem (TPMS)
Front Suspension: GR monotube
Rear Suspension: Leaf Spring
Automatic Climate Control (Toyota Approved Equipment - Made in Thailand)*
Side Molding on side doors (Toyota Approved Equipment - Made in Thailand)*
Side Stripes (Toyota Approved Equipment - Made in South Africa)*
Built In Tire Inflator (Toyota Approved Equipment - Made in China)*
Floor Mats - Carpet (Toyota Approved Equipment - Made in Thailand)*
Locking Switch in Passenger Door (Toyota Approved Equipment - Made in Malaysia )*
Engine: 2.8L, 4 cylinders, Diesel D-4D ,Turbo
Max Output: 201 HP / 3000-3400 rpm
Max Torque: 500 NM / 1600-2800 rpm
Tire Size : 265/60R18 , 18'' Aluminum wheels
Transmission: 6-Speed Automatic
Engine Auto Stop/Start System
Steering Wheel Mounted Controls
Automatic Power windows all doors
Power Side Mirrors with Turn Signal Lamp & Welcome Lights
Auto Retractable Power Side Mirrors
Smart Entry System and Engine Stop/Start Button
4.2 inch colour Multi-Information Display
Navigation System Touch Screen 8 inch
Panoramic View Monitor (4 Cameras)
Interior door trim illumination
Front Disc Brakes & Rear Drum Brakes
Anti-Lock Braking System (ABS) & Electronic Brake-force Distribution (EBD)
Vehicle Stability Control (VSC)
Hill-start Assist Control (HAC)
Driver and front passenger airbags , Driver knee airbag
Tire Pressure Monitoring Sytem (TPMS)
Rear Suspension: Leaf Spring
IR Cut Front glass & windows
Engine immobilizer system
Front & Rear Parking Sensors
Rear seat armrest with cup holder
Rear Air Conditioning Vents
Automatic Climate Control (Toyota Approved Equipment - Made in Thailand)*
Side Molding on side doors (Toyota Approved Equipment - Made in Thailand)*
Side Stripes (Toyota Approved Equipment - Made in South Africa)*
Built In Tire Inflator (Toyota Approved Equipment - Made in China)*
Floor Mats - Carpet (Toyota Approved Equipment - Made in Thailand)*
Locking Switch for Front Passenger (Toyota Approved Equipment - Made in Malaysia )*
Engine: 2.8L, 4 cylinders, Diesel D-4D ,Turbo
Max Output: 201 BHP / 3400 rpm
Max Torque: 500 NM / 1600-2800 rpm
Transmission: 6-Speed Automatic
Engine Auto Stop/Start System
Steering Wheel Mounted Controls
Connected Display Audio "C-DA" (8 inch Touch screen/Smart phone connection/USB port/FM and AM Radio/Bluetooth)
Power Front Windows & Power Side View Mirrors
Remote Central Door Locking
4.2 inch colour Multi-Information Display
Rear differential lock with auto disconnect
Front & Rear Parking Sensors
Rear seat armrest with cup holder
Rear Air Conditioning Vents
IR Cut Front glass & windows
Engine immobilizer system
Front Disc Brakes & Rear Drum Brakes
Anti-Lock Braking System (ABS) & Electronic Brake-force Distribution (EBD)
Vehicle Stability Control (VSC)
Hill-start Assist Control (HAC)
Driver and front passenger airbags , Driver knee airbag
Tire Pressure Monitoring Sytem (TPMS)
Rear Suspension: Leaf Spring
LED Front Fog Lamp with DRL (Toyota Approved Equipment - Made in China)*
Automatic Climate Control (Toyota Approved Equipment - Made in Thailand)*
Rear View Monitor (Toyota Approved Equipment, Made in Taiwan)*
Side Molding on side doors (Toyota Approved Equipment - Made in Thailand)*
Side Stripes (Toyota Approved Equipment - Made in South Africa)*
Tire Size :265/65R17 , 17'' Alloy wheels (Toyota Approved Equipment, Made in Thailand)*
Floor Mats - Carpet (Toyota Approved Equipment - Made in Thailand)*
Bed Liner (Toyota Approved Equipment - Made in Thailand)*
Frame Guard (Toyota Approved Equipment - Made in Thailand)*
Locking Switch in Passenger Door (Toyota Approved Equipment - Made in Malaysia )*
Engine: 4.0L , 6 cylinders ,Petrol, VVT-I
Max Output : 235 HP / 5200 rpm
Max Torque : 376 NM / 3800 rpm
Tire Size : 265/60R18 , 18'' Aluminum wheels
Transmission: 6-Speed Automatic
Front Paint Bumper with GR special grill
Leather steering wheel with mounted controls with GR logo
Front Separate Seats with GR logo on headrests and auto adjuster for driver seat
Navigation System Touch Screen 8 inch
Panoramic View Monitor (4 Cameras)
Front & Rear Parking Sensors
Automatic Power windows all doors
Power Side Mirrors with Turn Signal Lamp & Welcome Lights
Auto Retractable Power Side Mirrors
Smart Entry System and Engine Stop/Start Button with GR logo
4.2 inch colour Multi-Information Display
Rear seat armrest with cup holder
Rear Air Conditioning Vents
IR Cut Front glass & windows
Engine immobilizer system
Rear differential lock with auto disconnect
Front Disc Brakes & Rear Drum Brakes
Anti-Lock Braking System (ABS) & Electronic Brake-force Distribution (EBD)
Vehicle Stability Control (VSC)
Hill-start Assist Control (HAC)
Driver and front passenger airbags , Driver knee airbag
Tire Pressure Monitoring Sytem (TPMS)
Front Suspension: GR monotube
Rear Suspension: Leaf Spring
Automatic Climate Control (Toyota Approved Equipment - Made in Thailand)*
Side Molding on side doors (Toyota Approved Equipment - Made in Thailand)*
Side Stripes (Toyota Approved Equipment - Made in South Africa)*
Built In Tire Inflator (Toyota Approved Equipment - Made in China)*
Floor Mats - Carpet (Toyota Approved Equipment - Made in Thailand)*
Locking Switch for Front Passenger (Toyota Approved Equipment - Made in Malaysia )*
Engine: 2.4L, 4 cylinders, Diesel D-4D ,Turbo
Max Output: 147.5 BHP / 3400 rpm
Max Torque: 400 NM / 1600-2000 rpm
Transmission: 6-Speed Automatic
Engine Auto Stop/Start System
Steering Wheel Mounted Controls
Power Windows & Power Side View Mirrors
Smart Entry System and Engine Stop/Start Button
4.2 inch colour Multi-Information Display
Rear differential lock with auto disconnect
Connected Display Audio "C-DA" (8 inch Touch screen/Smart phone connection/USB port/FM and AM Radio/Bluetooth)
Front & Rear Parking Sensors
Rear seat armrest with cup holder
Rear Air Conditioning Vents
Front Disc Brakes & Rear Drum Brakes
Anti-Lock Braking System (ABS) & Electronic Brake-force Distribution (EBD)
Vehicle Stability Control (VSC)
Hill-start Assist Control (HAC)
Driver and front passenger airbags , Driver knee airbag
Tire Pressure Monitoring Sytem (TPMS)
Rear Suspension: Leaf Spring
IR Cut Front glass & windows
Engine immobilizer system
LED Front Fog Lamp with DRL (Toyota Approved Equipment - Made in China)*
Automatic Climate Control (Toyota Approved Equipment - Made in Thailand)*
Rear View Monitor (Toyota Approved Equipment, Made in Taiwan)*
Side Molding on side doors (Toyota Approved Equipment - Made in Thailand)*
Side Stripes (Toyota Approved Equipment - Made in South Africa)*
Tyre Size :265/65R17 , 17'' Alloy wheels (Toyota Approved Equipment - Made in Thailand)*
Floor Mats - Carpet (Toyota Approved Equipment - Made in Thailand)*
Bed Liner (Toyota Approved Equipment - Made in Thailand)*
Frame Guard (Toyota Approved Equipment - Made in Thailand)*
Locking Switch in Passenger Door (Toyota Approved Equipment - Made in Malaysia )*
Side Step (Toyota Approved Equipment - Made in China )*
Engine: 4.0L , 6 cylinders ,Petrol, VVT-I
Max Output : 235 HP / 5200 rpm
Max Torque : 376 NM / 3800 rpm
Tire Size : 265/60R18 , 18'' Aluminum wheels
Transmission: 6-Speed Automatic
Steering Wheel Mounted Controls
Automatic Power windows all doors
Power Side Mirrors with Turn Signal Lamp & Welcome Lights
Auto Retractable Power Side Mirrors
Smart Entry System and Engine Stop/Start Button
4.2 inch colour Multi-Information Display
Interior door illumination
Front Disc Brakes & Rear Drum Brakes
Anti-Lock Braking System (ABS) & Electronic Brake-force Distribution (EBD)
Vehicle Stability Control (VSC)
Hill-start Assist Control (HAC)
Driver and front passenger airbags , Driver knee airbag
Tire Pressure Monitoring Sytem (TPMS)
Rear Suspension: Leaf Spring
IR Cut Front glass & windows
Engine immobilizer system
Navigation System Touch Screen 8 inch
Panoramic View Monitor (4 Cameras)
Front & Rear Parking Sensors
Rear seat armrest with cup holder
Rear Air Conditioning Vents
Automatic Climate Control (Toyota Approved Equipment - Made in Thailand)*
Side Molding on side doors (Toyota Approved Equipment - Made in Thailand)*
Side Stripes (Toyota Approved Equipment - Made in South Africa)*
Built In Tire Inflator (Toyota Approved Equipment - Made in China)*
Floor Mats - Carpet (Toyota Approved Equipment - Made in Thailand)*
Locking Switch for Front Passenger (Toyota Approved Equipment - Made in Malaysia )*
Engine: 2.8L, 4 cylinders, Diesel D-4D ,Turbo
Max Output: 201 BHP / 3400 rpm
Max Torque: 420 NM / 1400-3400 rpm
Transmission:6-Speed Manual
Engine Auto Stop/Start System
Steering Wheel Mounted Controls
Connected Display Audio "C-DA" (8 inch Touch screen/Smart phone connection/USB port/FM and AM Radio/Bluetooth)
Power Front Windows & Power Side View Mirrors
Remote Central Door Locking
4.2 inch colour Multi-Information Display
Rear differential lock with auto disconnect
Front & Rear Parking Sensors
Rear seat armrest with cup holder
Rear Air Conditioning Vents
IR Cut Front glass & windows
Engine immobilizer system
Front Disc Brakes & Rear Drum Brakes
Anti-Lock Braking System (ABS) & Electronic Brake-force Distribution (EBD)
Vehicle Stability Control (VSC)
Hill-start Assist Control (HAC)
Driver and front passenger airbags , Driver knee airbag
Tire Pressure Monitoring Sytem (TPMS)
Rear Suspension: Leaf Spring
LED Front Fog Lamp with DRL (Toyota Approved Equipment - Made in China)*
Automatic Climate Control (Toyota Approved Equipment - Made in Thailand)*
Rear View Monitor (Toyota Approved Equipment, Made in Taiwan)*
Side Molding on side doors (Toyota Approved Equipment - Made in Thailand)*
Side Stripes (Toyota Approved Equipment - Made in South Africa)*
Tire Size :265/65R17 , 17'' Alloy wheels (Toyota Approved Equipment, Made in Thailand)*
Floor Mats - Carpet (Toyota Approved Equipment - Made in Thailand)*
Bed Liner (Toyota Approved Equipment - Made in Thailand)*
Frame Guard (Toyota Approved Equipment - Made in Thailand)*
Locking Switch in Passenger Door (Toyota Approved Equipment - Made in Malaysia )*
Engine: 2.4L, 4 cylinders, Diesel D-4D ,Turbo
Max Output: 147.5 BHP / 3400 rpm
Max Torque: 400 NM / 1600-2000 rpm
Transmission:6-Speed Manual
Engine Auto Stop/Start System
Steering Wheel Mounted Controls
Connected Display Audio "C-DA" (8 inch Touch screen/Smart phone connection/USB port/FM and AM Radio/Bluetooth)
Power Windows & Power Side View Mirrors
Smart Entry System and Engine Stop/Start Button
4.2 inch colour Multi-Information Display
Rear differential lock with auto disconnect
Driver and front passenger airbags , Driver knee airbag
Rear seat armrest with cup holder
Rear Air Conditioning Vents
IR Cut Front glass & windows
Engine immobilizer system
Front Disc Brakes & Rear Drum Brakes
Anti-Lock Braking System (ABS) & Electronic Brake-force Distribution (EBD)
Vehicle Stability Control (VSC)
Hill-start Assist Control (HAC)
Tire Pressure Monitoring Sytem (TPMS)
Rear Suspension: Leaf Spring
LED Front Fog Lamp with DRL (Toyota Approved Equipment - Made in China)*
Automatic Climate Control (Toyota Approved Equipment - Made in Thailand)*
Rear View Monitor (Toyota Approved Equipment, Made in Taiwan)*
2 Rear Parking Sensors (Toyota Approved Equipment- Made in china )*
Side Molding on side doors (Toyota Approved Equipment - Made in Thailand)*
Side Stripes (Toyota Approved Equipment - Made in South Africa)*
Tyre Size :265/65R17 , 17'' Alloy wheels (Toyota Approved Equipment - Made in Thailand)*
Floor Mats - Carpet (Toyota Approved Equipment - Made in Thailand)*
Bed Liner (Toyota Approved Equipment - Made in Thailand)*
Frame Guard (Toyota Approved Equipment - Made in Thailand)*
Locking Switch in Passenger Door (Toyota Approved Equipment - Made in Malaysia )*
Side Step (Toyota Approved Equipment - Made in China )*
Engine: 2.7L , 4 cylinders ,Petrol, VVT-I
Max Output : 164 BHP / 5200 rpm
Max Torque : 245 NM / 4000 rpm
Transmission: 6-Speed Automatic
Steering Wheel Mounted Controls
Connected Display Audio "C-DA" (8 inch Touch screen/Smart phone connection/USB port/FM and AM Radio/Bluetooth)
Power Front Windows & Power Side View Mirrors
Smart Entry System and Engine Stop/Start Button
4.2 inch colour Multi-Information Display
Rear seat armrest with cup holder
Rear Air Conditioning Vents
Rear differential lock with auto disconnect
Engine immobilizer system
Front Disc Brakes & Rear Drum Brakes
Anti-Lock Braking System (ABS) & Electronic Brake-force Distribution (EBD)
Vehicle Stability Control (VSC)
Hill-start Assist Control (HAC)
Driver and front passenger airbags , Driver knee airbag
Tire Pressure Monitoring Sytem (TPMS)
Rear Suspension: Leaf Spring
IR Cut Front glass & windows
LED Front Fog Lamp with DRL (Toyota Approved Equipment - Made in China)*
Automatic Climate Control (Toyota Approved Equipment - Made in Thailand)*
Rear View Monitor (Toyota Approved Equipment, Made in Taiwan)*
Rear Parking Sensors (Toyota Approved Equipment- Made in china )*
Side Molding on side doors (Toyota Approved Equipment - Made in Thailand)*
Side Stripes (Toyota Approved Equipment - Made in South Africa)*
Tyre Size :265/65R17 , 17'' Alloy wheels (Toyota Approved Equipment - Made in Thailand)*
Floor Mats - Carpet (Toyota Approved Equipment - Made in Thailand)*
Bed Liner (Toyota Approved Equipment - Made in Thailand)*
Frame Guard (Toyota Approved Equipment - Made in Thailand)*
Locking Switch in Passenger Door (Toyota Approved Equipment - Made in Malaysia )*
Side Step (Toyota Approved Equipment - Made in China )*
Engine: 2.7L , 4 cylinders ,Petrol, VVT-I
Max Output : 164 BHP / 5200 rpm
Max Torque : 245 NM / 4000 rpm
Transmission: 5-Speed Manual
Steering Wheel Mounted Controls
Connected Display Audio "C-DA" (8 inch Touch screen/Smart phone connection/USB port/FM and AM Radio/Bluetooth)
Power Windows & Power Side View Mirrors
Smart Entry System and Engine Stop/Start Button
4.2 inch colour Multi-Information Display
Rear Air Conditioning Vents
Rear seat armrest with cup holder
Rear differential lock with auto disconnect
Driver and front passenger airbags , Driver knee airbag
IR Cut Front glass & windows
Engine immobilizer system
Front Disc Brakes & Rear Drum Brakes
Anti-Lock Braking System (ABS) & Electronic Brake-force Distribution (EBD)
Vehicle Stability Control (VSC)
Hill-start Assist Control (HAC)
Tire Pressure Monitoring Sytem (TPMS)
Rear Suspension: Leaf Spring
LED Front Fog Lamp with DRL (Toyota Approved Equipment - Made in China)*
Automatic Climate Control (Toyota Approved Equipment - Made in Thailand)*
Rear View Monitor (Toyota Approved Equipment, Made in Taiwan)*
Rear Parking Sensors (Toyota Approved Equipment- Made in china )*
Side Molding on side doors (Toyota Approved Equipment - Made in Thailand)*
Side Stripes (Toyota Approved Equipment - Made in South Africa)*
Tyre Size :265/65R17 , 17'' Alloy wheels (Toyota Approved Equipment - Made in Thailand)*
Floor Mats - Carpet (Toyota Approved Equipment - Made in Thailand)*
Bed Liner (Toyota Approved Equipment - Made in Thailand)*
Frame Guard (Toyota Approved Equipment - Made in Thailand)*
Locking Switch in Passenger Door (Toyota Approved Equipment - Made in Malaysia )*
Side Step (Toyota Approved Equipment - Made in China )*
Engine: 2.4L, 4 cylinders, Diesel D-4D ,Turbo
Max Output: 147.5 BHP / 3400 rpm
Max Torque: 400 NM / 1600-2000 rpm
Tyre Size : 225/70R17C , 17'' Steel wheels
Transmission: 6-Speed Manual
Steering Wheel Mounted Controls
Power Windows & Power Side View Mirrors
Remote Central Door Locking
Driver and front passenger airbags
Engine immobilizer system
Front Disc Brakes & Rear Drum Brakes
Anti-Lock Braking System (ABS) & Electronic Brake-force Distribution (EBD)
Vehicle Stability Control (VSC)
Hill-start Assist Control (HAC)
Tire Pressure Monitoring Sytem (TPMS)
Rear Suspension: Leaf Spring
Manual Air Conditioning (Toyota Approved Equipment - Made in Thailand)*
Display Audio Multimedia Touch Screen 7 inch (Toyota Approved Equipment - Made in Indonesia)*
Side Stripes (Toyota Approved Equipment - Made in South Africa)*
Floor Mats - Carpet (Toyota Approved Equipment - Made in Thailand)*
Bed Liner (Toyota Approved Equipment - Made in Thailand)*
Engine: 2.4L, 4 cylinders, Diesel D-4D ,Turbo
Max Output: 147.5 BHP / 3400 rpm
Max Torque: 343 NM / 1400-2800 rpm
Tyre Size : 215/65R16C , 16'' Steel wheels
Transmission: 5-Speed Manual
Power Windows & Power Side View Mirrors
Remote Central Door Locking
Driver and front passenger airbags
Engine immobilizer system
Front Disc Brakes & Rear Drum Brakes
Anti-Lock Braking System (ABS) & Electronic Brake-force Distribution (EBD)
Vehicle Stability Control (VSC)
Hill-start Assist Control (HAC)
Tire Pressure Monitoring Sytem (TPMS)
Rear Suspension: Leaf Spring
Manual Air Conditioning (Toyota Approved Equipment - Made in Thailand)*
Display Audio Multimedia Touch Screen 7 inch (Toyota Approved Equipment - Made in Indonesia)*
Side Stripes (Toyota Approved Equipment - Made in South Africa)*
Floor Mats - Carpet (Toyota Approved Equipment - Made in Thailand)*
Bed Liner (Toyota Approved Equipment - Made in Thailand)*
Engine: 2.7L , 4 cylinders ,Petrol, VVT-I
Max Output : 164 BHP / 5200 rpm
Max Torque : 245 NM / 4000 rpm
Transmission: 5-Speed Manual
Steering Wheel Mounted Controls
Power Windows & Power Side View Mirrors
Remote Central Door Locking
4.2 inch colour Multi-Information Display
Driver and front passenger airbags , Driver knee airbag
Rear seat armrest with cup holder
Rear Air Conditioning Vents
IR Cut Front glass & windows
Engine immobilizer system
Front Disc Brakes & Rear Drum Brakes
Anti-Lock Braking System (ABS) & Electronic Brake-force Distribution (EBD)
Vehicle Stability Control (VSC)
Hill-start Assist Control (HAC)
Tire Pressure Monitoring Sytem (TPMS)
Rear Suspension: Leaf Spring
Automatic Climate Control (Toyota Approved Equipment - Made in Thailand)*
Tire Size : 215/65R16C , 16'' Alloy wheels (Toyota Approved Equipment - Made in Thailand)*
Display Audio Multimedia Touch Screen 7 inch (Toyota Approved Equipment - Made in Indonesia)*
Rear Parking Sensors (Toyota Approved Equipment- Made in china )*
Side Stripes (Toyota Approved Equipment - Made in South Africa)*
Floor Mats - Carpet (Toyota Approved Equipment - Made in Thailand)*
Front Fog Lamp (Toyota Approved Equipment - Made in Malaysia)*
Frame Guard (Toyota Approved Equipment - Made in Thailand)*
Wood Grain Effect dashboard & interior door trim (Toyota Approved Equipment, Made in Saudi Arabia)*
Bed Liner (Toyota Approved Equipment - Made in Thailand)*
Engine: 2.7L , 4 cylinders ,Petrol, VVT-I
Max Output : 164 BHP / 5200 rpm
Max Torque : 245 NM / 4000 rpm
Tyre Size : 215/65R16C , 16'' Steel wheels with Full cap
Transmission: 5-Speed Manual
Steering Wheel Mounted Controls
Power Windows & Power Side View Mirrors
Remote Central Door Locking
4.2 inch colour Multi-Information Display
Driver and front passenger airbags , Driver knee airbag
Engine immobilizer system
Front Disc Brakes & Rear Drum Brakes
Anti-Lock Braking System (ABS) & Electronic Brake-force Distribution (EBD)
Vehicle Stability Control (VSC)
Hill-start Assist Control (HAC)
Tire Pressure Monitoring Sytem (TPMS)
Rear Suspension: Leaf Spring
Manual Air Conditioning (Toyota Approved Equipment - Made in Thailand)*
Display Audio Multimedia Touch Screen 7 inch (Toyota Approved Equipment - Made in Indonesia)*
Rear Parking Sensors (Toyota Approved Equipment- Made in china )*
Side Stripes (Toyota Approved Equipment - Made in South Africa)*
Floor Mats - Carpet (Toyota Approved Equipment - Made in Thailand)*
Front Fog Lamp (Toyota Approved Equipment - Made in Malaysia)*
Frame Guard (Toyota Approved Equipment - Made in Thailand)*
Wood Grain Effect dashboard & interior door trim (Toyota Approved Equipment, Made in Saudi Arabia)*
Bed Liner (Toyota Approved Equipment - Made in Thailand)*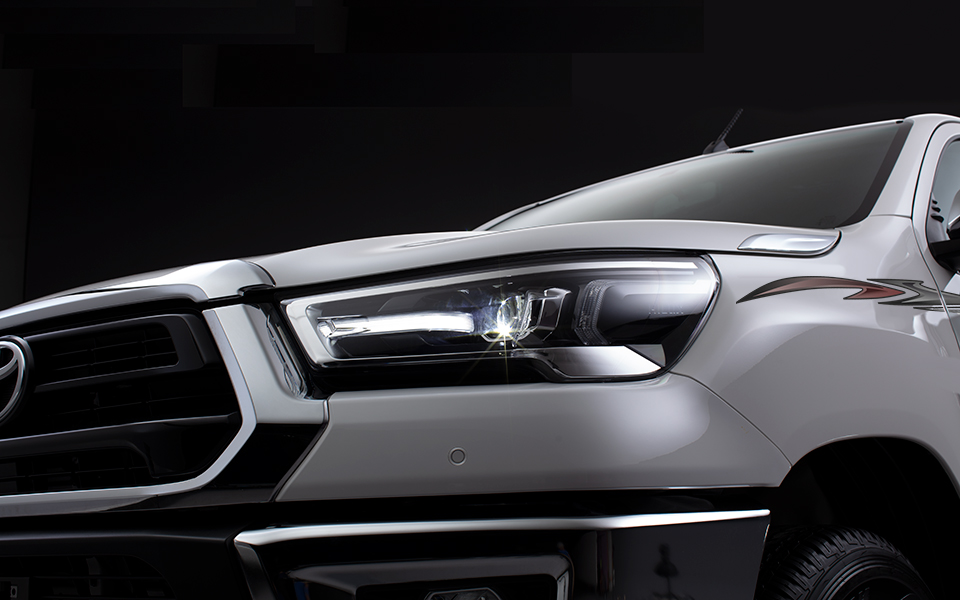 THE ADVANCED SHARP LED HEADLAMPS EXPRESS A SENSE OF TOUGHNESS AND AGGRESSIVENESS.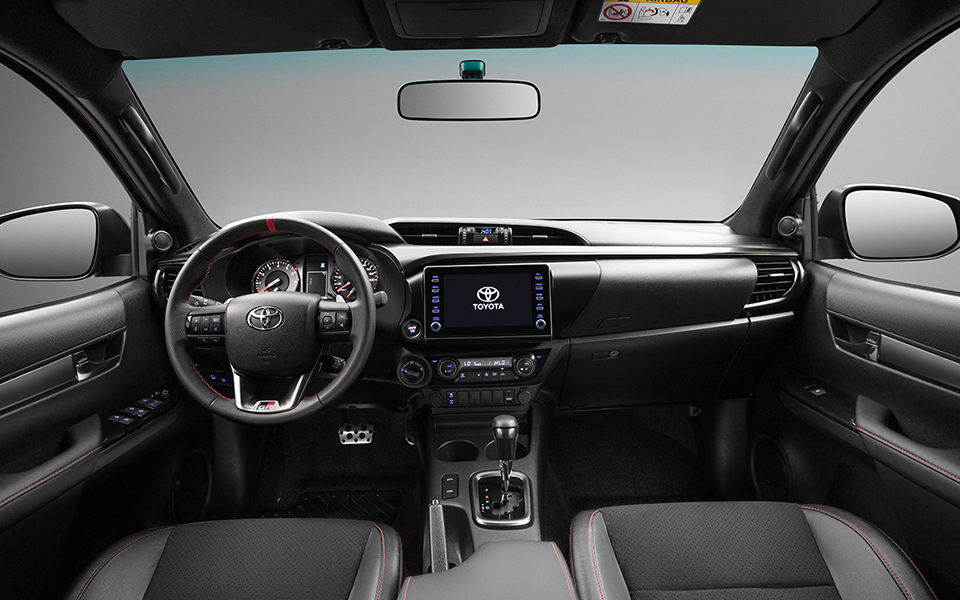 SOPHISTICATED AND SPORTY
The design builds anticipation of confident and exhilarating driving on multiple terrains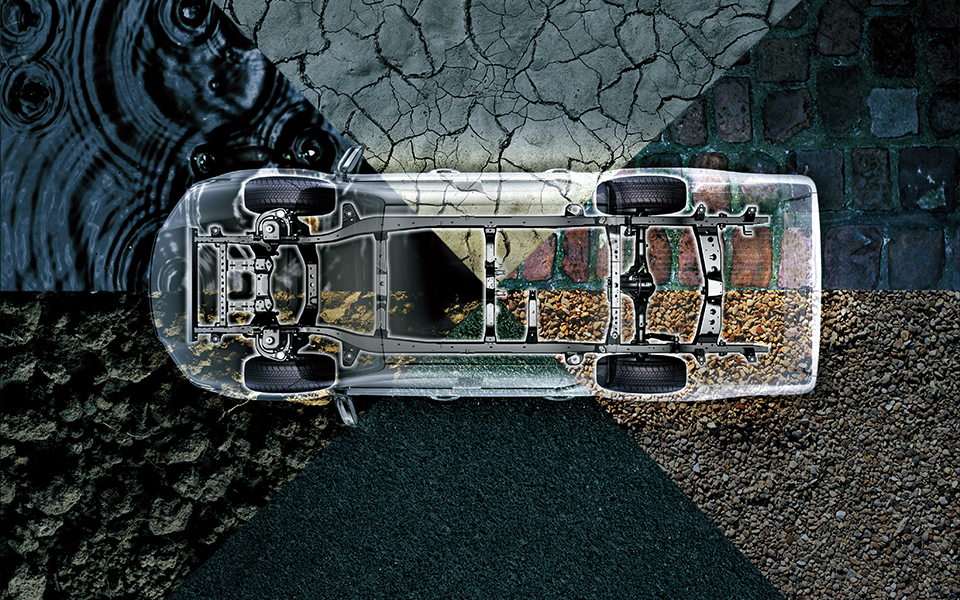 FRAME STRUCTURE
Large cross members and strengthened side rails on the high rigidity frame contribute to excellent durability and handling performance, a quiet smooth ride and reassuring feeling of safety.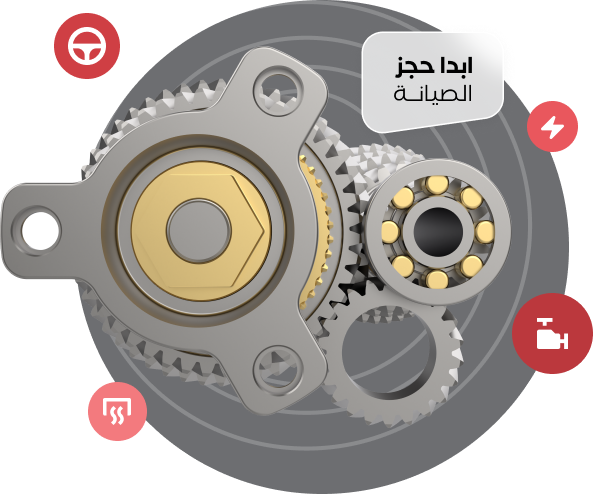 Nice maintenance program
The program is only applicable to new Toyota vehicles imported through the authorized distributor of Toyota in the Kingdom of Saudi Arabia (Abdul Latif Jameel) and sold from January 1, 2020 until the end of 2022.
Find out more